Being the second biggest city in the UK, Birmingham has both a large business demographic and bustling nightlife, making it a hot-spot for throwing big occasions, conferences and events. Many of the most popular bars and restaurants have some great spaces which they hire out for private events,, and there are some real gems in hotels, and old buildings around the city which are less well known. Finding the right space for your event can be difficult but luckily, there are some fantastic venues up for grabs in and around the city.

Whether it's for your wedding, an important meeting or a big birthday, we've scouted out the best spots in Brum to make it easier for you to find that perfect venue:
The Engine Room Digbeth

The Engine Room is a great space available to hire for private events for those who love the industrial style of the Digbeth area. The venue gives you the freedom to decorate the venue however you would like which means you can create your own bespoke party or event while they take care of the stressful stuff such as acquiring bar staff and security for your event.
The Engine Room offers an in house system for live music and DJs, with its own DJ booth; it can provide DJs for any genre but also allows for the option to control your own music from your own device. The event room also has shutter doors which can be opened to provide access to an outdoor area if you desire with street food options. This dedicated space would be ideal for a wedding reception, a birthday party, or a music event.

Address: The Engine Room, 25 Floodgate Street, Digbeth,B5 5SL
Contact: 07974 442314 or karl@theengineroom.space
Link: www.theengineroom.space
Saint Pauls House

Saint Pauls House is a casual modern boutique hotel, bar and restaurant combined situated in the Jewellery Quarter, designed with a nod to the trends of Shoreditch. The establishment has event rooms available to hire for small to medium groups (max 70 people) perfect for meetings or conferences and can cater your meetings with pre-set menus.
Saint Pauls House also has a Private Dining Room that which seats up to 20 people. This light and airy space has a Smart HD TV and air conditioning which make it a great space to hold meetings away from the office. All the event rooms available to hire also offer Free Wifi and stationery to use.

Address: 15-20 St Paul's Square, Birmingham B3 1QU
Contact: 0121 272 0999 or info@saintpaulshouse.com
Link: www.saintpaulshouse.com/meetings

The Sun on the Hill, Birmingham

The Sun on the Hill is a quirky and unique spot now available to hire in Birmingham city centre. Its interior combines Victorian features with a modern minimalist style featuring blue painted wood and exposed brick.
The bar now hires out the Mezzanine for events of up to 60 people which allows you to hire your own private area without secluding guests from the pub's friendly and relaxed atmosphere. With its own bar and the availability of home-cooked sharing platters, this would be a great space to host a casual party or celebration with family and friends.

Address: The Sun On The Hill, 23 Bennetts Hill, Birmingham B2 5QP
Contact: 0121 4887966
Link: thesunonthehill.co.uk

The Actress and Bishop, Jewellery Quarter

One of the most popular live music venues in Birmingham, The Actress and Bishop, has newly available rooms to hire whether its for a meeting or conference or a private party.
This cool music venue offers a fun and laid-back environment for parties and provides different catering and beverage packages to suit your budget. The rooms are spacious and versatile, with a staging area, making them perfect for presentation or interactive events such as quizzes, team building days, parties or performances.
Address: The Actress & Bishop, Ludgate Hill, Birmingham B3 1EH
Contact: 0121 236 7426 or info@theactressandbishop.co.uk
Link: theactressandbishop.co.uk
The Custard Factory, Digbeth

The Custard Factory in Digbeth encompasses the industrial and creative history of Birmingham. The once derelict Victorian factory site has been renovated and become a variety of fantastic, highly-impressive, event spaces for businesses, retail and leisure. There are large rooms and vast areas available to hire for every type of wedding celebration, whether its the ceremony itself or the evening reception, both in The Custard Factory itself and in surrounding venues at the stunning Fazeley Studios and The Bond on the canal.

All of these venues also can be hired out for private parties, a ball or prom, for conferences and meetings and will accommodate even more unconventional events. Some of the other rooms and areas available to hire include: Factory Works, Studio 7, Digbeth Arena, and Warehouse 119. Whatever event you are looking to host, The Custard Factory will have a beautiful venue for hire which incorporates all of Birmingham's heritage and culture. If you're on the hunt for somewhere unusual and interesting, keep an eye on the website and get in contact as there will occasionally be unlisted venues available.

Address: The Custard Factory, Gibb Street, Birmingham B9 4AA
Contact: 0121 224 7777 (For all enquiries contact The Custard Factory)
Link: digbeth.com/events

The Plough, Harborne

The Plough in Harborne is a favourite amongst many in Birmingham. It brings the local village atmosphere to the city of Birmingham and modernises the typical English pub. 'Next Door'- the Plough's private dining room – has recently been renovated meaning customers can now hire out the room to have a special meal with friends and family (max 20) or businesses can hire out the room for a meeting catered with delicious sandwiches. With its own private mini bar and new, artistic and contemporary decor and furnishings, this is a cosy yet formal room ideal for small private get-togethers.
Address: 21 High St, Harborne, Birmingham B17 9NT
Contact: 0121 427 3678
Link: theploughharborne.co.uk
Alpha Works, Birmingham

Alpha Works is an exciting office space in Alpha Tower in the heart of Birmingham City centre which has 4 rooms available on the 20 and 21st floors to hire for private meetings and conferences. The meeting rooms boast a stunning vista across the city and are decorated colourfully with modern geometric patterns and aesthetic, industrial furnishings. There is the potential for catering for meetings and access to private phone booths.

Address: Suffolk St Queensway, Birmingham B1 1TT
Contact: +44 (0)121 516 4270 or hello@alphaworksb1.co.uk
Link: www.alphaworksb1.co.uk
Island Bar, Birmingham

Island Bar is a lively Caribbean inspired bar in the centre of Birmingham, famous for its own award-winning drink creations and its busy live music events. Upstairs, is the Tiki Bar decorated and designed in the influence of the tropical South Pacific. It is open to the public on Fridays and Saturdays for DJ nights but is available for free private hire from Sunday through Thursday. This cool venue is available to hire for birthdays and wedding receptions alike and can even include cocktail classes and a buffet!
Address: Island Bar, 14-16 Suffolk Street Queensway, Birmingham B1 1LT
Contact: 0121 632 5296 or hello@bar-island.co.uk
Link: www.bar-island.co.uk/tiki-bar

Bodega Bar & Cantina, Birmingham

Contemporary South-American inspired bar and restaurant, Bodega was one of the first independent restaurants in Birmingham and is now a great local spot to eat and drink. The vibrant Sugar Loaf Bar in the basement makes for an interesting party venue with graffiti-decorated walls, multi-coloured string lighting, its own private bar and a DJ booth! The Sugar Loaf is available for free hire for any event you would like to hold; it caters for parties and wedding receptions for a maximum of 80 people for drinks and buffet or 40 if you would prefer a sit-down meal.
Address: Bodega Bar & Cantina, Bennett's Hill, Birmingham
Contact: 0121 4484267
Link: www.bodegacantina.co.uk/locations/birmingham

The Bull's Head – Davenports

If you are looking for somewhere more traditional to hire out for an event, The Bulls Head -Davenports is a listed building with lots of charm. The pub is located at the top of Broad Street, close to Edgbaston and Five Ways station. Upstairs is a renovated Victorian billiards room called The Club Room which is available for private hire for parties, corporate events and functions. The room holds up to 100 people and is decorated with classic pub leather furnishings and a grand chandelier. The Club Room, with its own bar and small stage, would be a lovely space to hold a reception or birthday celebration.
Address: 38 Bishopsgate Street, Birmingham B15 1EJ
Contact: 0121 439 4190 or info@davenportsbeer.co.uk
Link: www.davenports.co.uk/pubs-and-bars/bulls-head-davenports

1000 Trades Bar, Jewellery Quarter

The independent bar 1000 Trades would make a brilliant space for an event. Grade II listed, the building was previously used as a jewellery works and now has become a specialist craft bar and kitchen. They have an upstairs space available for hire for private functions and can seat 30 for dinner, 50 in a theatre style and can hold 70 standing. The room is decorated with the work of local artists and has a large TV and projector freely available for presentation use. Catering includes sandwiches and baked goods or cheese and charcuterie boards and music can be provided either by yourself or by the bar's own DJ. Occasionally, the downstairs space of the bar is available to hire also.

Address: 16 Frederick St, Birmingham B1 3HE
Contact: 0121 233 2693 or info@1000trades.org.uk
Link: 1000trades.org.uk

The Red Lion, Hockley

Another more traditional venue available for hire in Birmingham is The Red Lion, Hockley. Their Club Room can be hired for private parties and events and they can cater to breakfast, lunch or dinner. The room is fully air-conditioned, has its own private bar and has a TV to use whether that is for watching "the big game" or presenting at a meeting. The Club Room now also has its own terrace area and a capacity of 120 people. It is furnished in a traditional pub style but is bright and decorated with urban artwork.
Address: The Red Lion, Warstone Lane, Birmingham B18 6NG
Contact: 0121 2339144
Link: theredlionbirmingham.com/room-hire

The Victoria, Birmingham

The Victoria, a refurbished Victorian building, is situated in Birmingham city centre and is a popular pub with theatre-goers. Their upstairs function room is perfect for a party or birthday celebration where you want some room to dance and have fun, with its own bar and buffet facilities, as well as a stage, dancefloor and DJ booth. The room also has the option of using an AUX and stage lighting. Best of all, it is free to hire and can hold a capacity of more than 80 people!

Address: The Victoria, John Bright Street, Birmingham
Contact: 0121 6339439 or hello@thevictoriabirmingham.co.uk
Link: www.thevictoriabirmingham.co.uk

The Night Owl, Digbeth

The Night Owl is a Motown inspired club in Digbeth, drawing on the historic Northern-Soul music culture in Birmingham. The club has a sprung wooden dance floor and vintage inspired interiors, and uses high quality sound equipment.
This club can be hired out privately and with a maximum of 250 people, perfect for large birthday celebrations or big office parties. The main room of the club features a projector which can be utilised for photos or videos and the venue is willing to include cheap drink deals with hire. The venue would also be ideal for gigs, performances, or even dance classes! The Mezzanine level is also available for private hire for more intimate occasions such as hen or stag dos or smaller birthday parties. It has comfy seating and allows your event to feel more special and private.
Address: The Nightowl, 17-18 Lower Trinity Street, Birmingham B9 4AG
Contact: 07530 365933 or clare@nightowlbirmingham.com
Link: www.nightowlbirmingham.com/venue-hire

Cherry Reds

This homely independent cafe is located on John Brights Street near Birmingham New Street station. It has two rooms available for private hire: The Map Room and The Bosta Room. The Map Room seats 17 (or 20 standing) and therefore, is great for smaller occasions such as meetings, baby showers, and tasting sessions. It's quirky and interesting with maps used as wallpaper and a variety of funky dining sets for guests to sit around.
Bosta Room, painted red and decorated with leather and wood furnishings, is ideal for slightly bigger events like a private party, a wedding reception, a conference or even a comedy show! This room has the ability to use the AUX sound system to play your own music and has microphones available. It seats 40 and has a 80 person standing capacity, however, the rest of the floor can be hired out also Monday through Friday which increases the capacity to 120. Even better both rooms are free to hire! Both rooms have wheelchair access and are dog-friendly to make your event as inviting and easy as possible. A buffet can be provided for your event whichever you room you choose.

Address: Cherry Reds, John Bright Street, Birmingham
Contact: 01216435716 or people@cherryreds.com
Link: cherryreds.com/hireinfo

The Old Library, Digbeth

The Old Library is another gorgeous venue available to hire in the Birmingham area. This Victorian building is the single remaining Free Library of the five original opened in Birmingham in 1886. Filled with natural daylight and period features, this would make a beautiful space to hire for your wedding celebrations, but is also available to hire for conferences, seminars and meetings.
The Old Library can host a maximum of 250 for a reception and 150 for a banquet but if your conference or event is particularly large scale, the adjoining Reading Room can be opened to use as a cloakroom, breakout room or as a space for a buffet. The venue can also cater the event for you with a choice between different Day Delegate packages or Corporate Evening options. The Zellig room can be hired out also (or in addition) and is ideal for meetings with its plasma screen TV, wifi, and stationery, as well as a fridge and tea and coffee making facilities.

Address: Zellig, Gibb Street, Digbeth, Birmingham B9 4AA
Contact: 0121 667 1000
Link: https://www.theoldlibrary.co/
Birmingham Botanical Gardens

The Botanical Gardens are a lovely, idyllic location to hold an event. The venue hosts a lot of weddings but can also be hired out for corporate events or private parties. The landscaped gardens are a beautiful natural backdrop for your event and will whisk you and your guests away from the busy hubbub of the city. Hire for corporate events even includes complimentary access to to the Gardens throughout.
There are three different event suites all accessible via their own glasshouse. The Garden Suite is the largest, then the Terrace Suite, then the Loudon, but they are all as equally classy and elegant. The Garden Suite is especially popular for balls, proms and large celebrations. Catering is provided by the award winning caterers Ampersand and there are a variety of different menus to choose from to suit different events.
Address: Birmingham Botanical Gardens, Westbourne Road, Edgbaston, Birmingham, West Midlands, B15 3TR
Contact: 0121 393 4479
Link: https://www.birminghambotanicalgardens.org.uk/venue/
Highbury Hall

Highbury Hall is a gorgeous Grade II listed mansion owned by the council which can be hired out for weddings, both the ceremony and surrounding celebrations. The building encapsulates Birmingham history as it was built in 1876 for famous politician Joseph Chamberlain. The building itself is situated amongst landscaped grounds and has a traditional Victorian style throughout.
The hire package includes a dance floor in the drawing room for the evening reception, microphones, a laptop, a projector and a PA system. Help in organising your event is included too, with an event coordinator and manager to help you plan. There are a great variety of menus and catering options offered including a wedding breakfast, a BBQ, canapes, afternoon tea, a finger buffet or a normal dinner menu. This venue is also great at providing those extra benefits to make your event more special such as the use of 'Miss Hilda's bedroom' for your bridal party.
Address: 4 Yew Tree Rd, Birmingham B13 8QG
Contact: 0121 303 2050 or civic.catering@birmingham.gov.uk
Link: 
https://www.birmingham.gov.uk/directory_record/3607/highbury_hall 

Chamberlain Room and Banqueting Suite, Birmingham City Council

For conferences and private celebrations, the Chamberlain Room is another spectacular venue hired out by Birmingham council. The room offers views out onto Victoria Square and again has typically Victorian interior. It holds a maximum of 50, depending on the style of your event and therefore, is best for smaller occasions. It can also be hired out separately as a bridal suite for before your wedding.

The Banqueting Suite is Grade II listed and is famous for its architecture and interior design which embody the style of the 19th century. Situated inside Birmingham City Council, this suite has been hired out by the Royal family, world leaders, media and film stars, and famous people from the world of literature and business. This space can be hired out for a wedding ceremony, a conference or a private celebration and if being used for a wedding reception or banquet has a maximum capacity of 350. The Banqueting Suite includes free wifi, a dance floor, a PA system, a cloakroom and a laptop and projector. A fully stocked bar can also be provided depending on which package you choose along with other small benefits.

The venue is in close proximity to Birmingham New Street and Snow Hill, and a variety of catering options are offered ranging from a finger buffet to canapes. The Council Chamber, with Italian carved panelling, is also available to hire for presentations, annual meetings or conferences.

Address: Council House, Victoria Square, Birmingham B1 1BB
Contact: 0121 303 2050 or banqueting.suite@birmingham.gov.uk
Link: https://www.birmingham.gov.uk/info/50210/civic_catering/1834/dining_at_birmingham_council_house/2

The Electric Cinema, Birmingham

An exciting and unique place to hire out for your event would be The Electric Cinema in Birmingham. The Electric Cinema is the oldest working cinema in Birmingham; its interiors are red and black and the lounge and cocktail bar are decorated in an art deco chic design. The venue is often hired for corporate conferencing and children's birthday parties but they are open to a variety of different events and aim to be flexible to work with what you need. They've even hosted a Star Wars themed wedding celebration! This would definitely make a fantastic setting for a memorable event.

Address: 47–49 Station Street, Birmingham, B5 4DY
Contact: 0121 643 7879 or rachel@theelectric.co.uk
Link: https://www.theelectric.co.uk/hire.php
The Compound

If you are looking for somewhere impressive to host your event The Compound has got to be the coolest venue in Birmingham. This building used to be a 10,000 sq. ft. textile factory but has been converted into a multifunctional creative space used by huge names and companies including Ed Sheeran, Microsoft, Jaguar, Red Bull, Land Rover, Tesco and even MTV!
The venue has a modern industrial feel with lots of exposed brick, and metal staircases and panelling, with bridges, balconies and mezzanines. The space also features a 25 seat cinema, a speakeasy bar and an art studio. Three secluded living spaces located on different levels are also available. This would be an amazing venue to hire out for a big celebration like an important birthday, a large wedding reception or a gig!

Address: 80 Water St, Birmingham B3 1HL
Contact: +44 (0)121 212 1245 or info@the-compound.co.uk
Link: http://www.the-compound.co.uk/
The Royal Hotel, Sutton Coldfield
The Royal Hotel Sutton, is a fine example of a traditional Georgian house. Set in Sutton Coldfield town centre, this handsome and imposing building has managed to retain some of its finest traditional features, whilst offering many modern comforts. The Assembly hall can accommodate 90 seated guests or 150 standing and has a high stage for your DJ making the floor fully available to you and your guests. The Vesey room, sports its very own bar and has the capacity to hold 60 seated or 80 standing.
Address: The Royal Hotel, Sutton Coldfield, UK
Contact: 0121 355 8222
Link: https://www.theroyalsutton.co.uk/
Hyatt Regency Birmingham
Hyatt Regency Birmingham is an ideal spot to host your next event, gala, or social gathering. With 12 meeting rooms, a venue suitable for any and all events, from large-scale reunions with more than 200 guests to intimate soirées with just 25 attendees. Enjoy complimentary Wi-Fi, audiovisual equipment, and more. From conferences to business meetings, an event team will be on hand to ensure success.
Host the wedding of your dreams at Hyatt Regency Birmingham, the hotel offers three versatile venues that can be customised to your preferences, customisable catering services, and 319 rooms and suites. Plan your weddings, receptions, rehearsal dinners, post-wedding brunches, and more.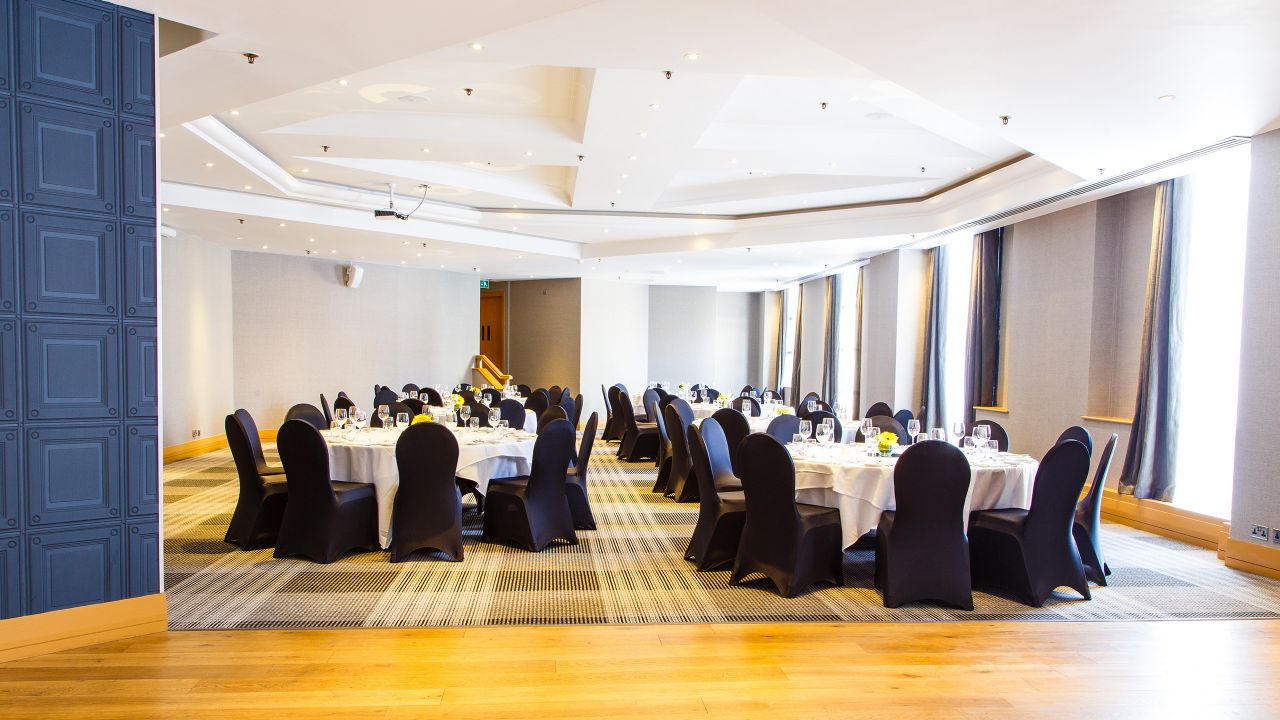 Address: Hyatt Regency, 2 Bridge Street, Birmingham B1 2JZ
Contact: 0121 6431234
Link: https://www.hyatt.com/hyatt-regency-birmingham
The Mill, Digbeth
A warehouse style performance and event venue, The Mill, offers a versatile location for music and corporate events. From smaller intimate gatherings, brand activation and experiential, to large scale music gigs/club nights. Events at The Mill are designed with you to fit your precise requirements.
Address: The Mill, 29 Lower Trinity St, Digbeth B9 4AG
Contact: 0121 7714 391

Link: https://www.themilldigbeth.com
The Rebel Chicken
The Rebel Chicken is situated in the heart of the Jewellery Quarter near to the main Metro stop. Set out over two levels, downstairs is taken up with a bar and a modern rustic seating area with a backdrop of chilled out jazzy vibes. Upstairs you will find a slightly American diner feel with a cool twist (you can't miss the huge buffalo head above the stairs). There is ample seating with plenty of natural light.
To accompany the food, there's a wide range craft beer, spirits and wine. Outside, the beer garden seats 120 and gets the sun all day and inside the restaurant can seat 40. The newly renovated beer garden is partially covered for intimate events with outdoor heating for the colder months. Ideal for private parties and events both inside and out!
Address: The Rebel Chicken, Pitsford Street, Birmingham
Contact: 0121 554 0177

Link: http://therebelchicken.co.uk
The Head of Steam
If you are looking to hire a room dead central, the Chimay Room within The Head of Steam on Temple Street is perfect for Group Bookings, Parties & Events. Entertain up to 40 guests in a raised semi-private area. Perfect for private beer masterclasses, parties, celebrations and corporate events. Available to hire daily from 10am and fully loaded with a large flat screen TV and HDMI cable.
Address: The Head of Steam, Somerset House, 36 Temple St, Birmingham B2 5DP
Contact: 0121 643 6824
Link: https://www.theheadofsteam.co.uk/bars/birmingham
Digbeth Works

Digbeth Works is an eclectic venue combining the cosiness of a coffee shop and a pub. This venue offers a downstairs meeting/function/conference style room, suitable for private business meetings and functions. The room is decorated in an industrial style with comfortable spaces to sit around the edge of the room; it also has a flat screen TV for presentation as well as a mini bar. Catering-wise, there is a great Pan-Asian Street Food menu and lots of yummy snacks available to order from the main bar upstairs.
Address: 79a Digbeth, Birmingham
Contact: 0121 792 0771 or info@digbethworks.com
Link: http://digbethworks.co.uk/
Article by University of Birmingham intern Daisy Andrews for Grapevine Birmingham